THE PROCESS
A consultation with Juan Carlos will take anywhere between 30 minutes to an hour. We will take time to discuss and better understand your individual style and how your suit will be worn. After this you may select your desired cloth, with over 2000 patterns available from English, Scottish and Italian mills. Once cloth has been selected and styling has been decided we will then commence taking your measurements. Usually two to three fittings within the 10-week turnaround time is sufficient. The first and not so glamorous is the baste fitting. We usually advise customers this fitting is more for the tailor rather than the customer, the suit will be more of a skeleton at this point. An important part of the process nevertheless as this will give us a better understanding how the cloth will perform and clarify the most appropriate way to manipulate the coats canvas and cloth so that it may float naturally around the contours of your body and be more comfortable. The second and final fitting is usually anywhere from 20-30 minutes, you can expect finishing touches to be made on site at this stage and leave with your new suit. Patterns are kept safely for future commissions. Please use the link here for a more thorough guide to our bespoke process.
HANDCRAFTED
Your pattern will be drafted by hand and struck out onto cloth before being cut, using age old tailoring techniques. Each suit has over 60 hours of handwork. Impeccable fit, precision and clean finishing is at the forefront of what we do.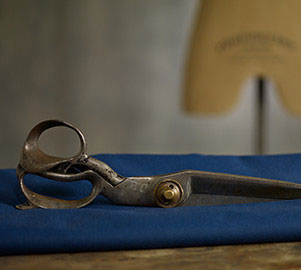 YOUR STYLE AND POSSIBILITIES
From single-breasted coats to double breasted smoking jackets with gauntlet cuffs you have many options. Usually additional features including hand monogramming or contrast stitching is done complimentary.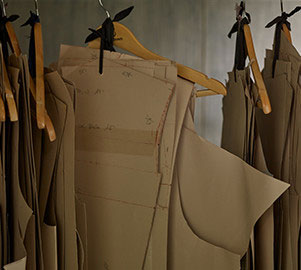 HOUSE STYLE
We are known for but not restricted by our house style, inherently created throughout 3 generations of soft and precise bespoke tailoring in Madrid. Complimented by a more traditional Savile Row silhouette. The coat features a higher arm hole for a longer more suppressed and natural waistline with a fuller and cleaner sleeve head, The perfect balance between style and comfort especially around the fore shoulder with a more natural drape and stronger chest. Clean lines, balance and correct proportions form the foundations of all our suits. Prices for a two-piece suit begin at £2850.


For further details or to book an appointment,
please email:[email protected]
or telephone:+44 (0)203 910 7750