UNIQUE MEASUREMENTS, A UNIQUE PATTERN
At your initial appointment the tailor will take a comprehensive set of measurements to create a picture of your silhouette. Taking into account subtleties such as the slope of your shoulder and the arch of your back, your measurements will be brought together with the classic Oliver Brown block to create a personal pattern for you.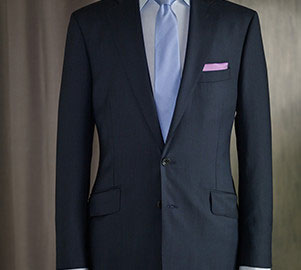 MADE IN LONDON
In our London studio, generations of the most skilled tailors and seamstresses will cut and stitch together your suit using traditional and machine techniques. At the heart of the suit will be a classic horse-hair half canvas, whilst the key internals will be hand-stitched for the best fit, before hand-pressing to finish.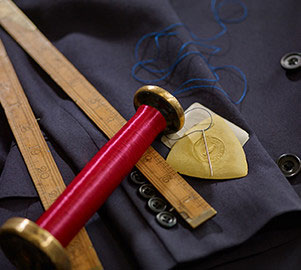 YOUR STYLE
The possibilities for a semi-bespoke suit are limitless, for a suit that that perfectly reflects your unique style and needs. From a three-piece suit crafted in British tweed to a cashmere jacket, our tailor will help to guide you through the facets of design, details and cloth from the world's finest mills.

EXTRA HAND-FINISHING OPTIONS
For an even smarter finish, enhance your suit with a choice of additional hand-finishing options. From handcrafted buttonholes, to hand-stitched lapel edges and lining inserted by hand, create a semi-bespoke suit with distinction.

Semi-bespoke suits are usually available to collect six to eight weeks after the initial consultation, and require a first fitting and a possible second fitting.
Prices start from £1800 for a two-piece suit, with the cloth charged additionally to this.
An express service is also available.
For further details or to book an appointment,
please email:[email protected]
or telephone:+44 (0)203 910 7750