Login
Log in if you have an account
Register
By creating an account with our store, you will be able to move through the checkout process faster, store multiple addresses, view and track your orders in your account, and more.
Create an account
In conversation with Head Cutter, Riki Brockman
23 Sep 2020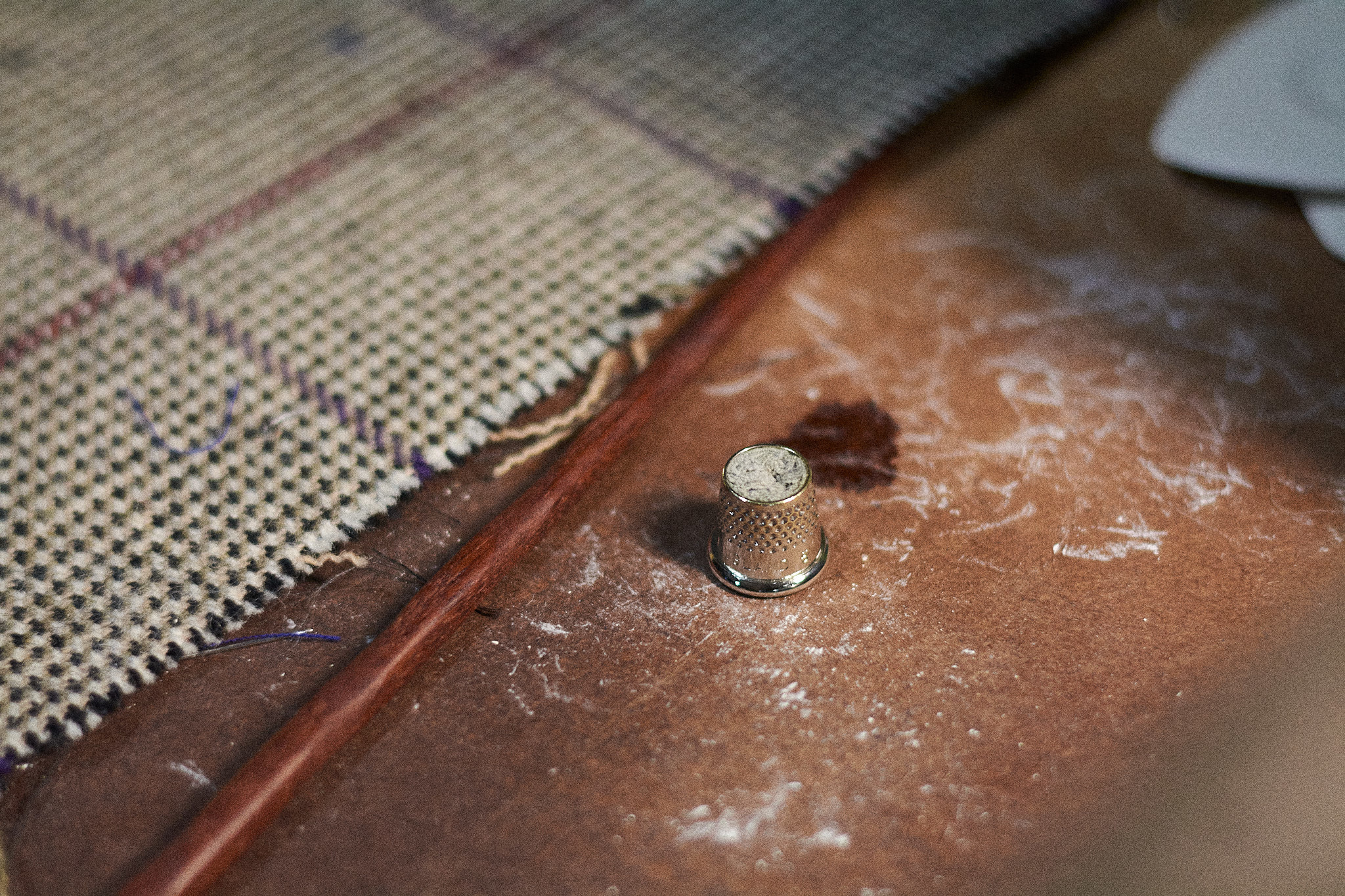 This week we sat down with Riki Brockman, Oliver Brown's Head Cutter, to ask him some questions about the art of cutting, sustainability in the current zeitgeist, his Cornish roots and an insight into his refreshing perspective on his craft and career. 
Here at Oliver Brown we follow the traditions of the Savile Row Guidelines such as and making everything on the premises and taking on apprentices to impart knowledge to the next generation of London tailors. However, Chelsea provides us with a platform to develop unique nuances, guiding us away from the limits of a traditional suit and towards the world of functional bespoke fashion and exploring other garments. Riki reveals his hopes for the future of the industry and describes the way bespoke intertwines with sustainability, particularly how he predicts the success of bespoke going forward.
What do customers least expect when beginning the process of getting their bespoke piece?
Lots of our clients aren't aware of quite how many things there are to consider. Actually, unless they've had something made in the past, none of them are aware. That's from cloth choice to style detail. So, rather than simply picking a blue or grey suit, I use my knowledge and expertise to guide them in the cloth. So the first thing I will ask them is the occasion. Is it for business? Is it for pleasure? Is it for both? Do they travel? Do they get warm in their clothes? And these questions dictate which sort of cloth they should have. By having that consultation, I can really narrow down and help them pick a cloth that's going to be right for them and the occasion that they want. When they think about these elements, the client become the designer without really knowing it. 
"When I was in school, I fancied a girl that was in the textiles class and I ended up doing a GCSE in textiles. "
What has led you to this point and what is your background pre-cutting?
I grew up in a little Cornish town in Mousehole, Penzance. I've always sewn, I enjoy sewing. When I was in school, I fancied a girl that was in the textiles class and I ended up doing a GCSE in textiles.
Did you do textiles to stay in the same class as her?
Yes. I sat next to her.
I went to university and I studied drama. That was quite helpful as it gave me confidence to talk to people and now, more importantly, interact with clients. Ultimately, it came down to me deciding that I wanted a career that I'm going to be proud of and that my family would be proud of. Maybe a bit egocentric but I wanted a career which other people thought was cool and which I thought was cool. So I decided to choose a career which people respected and one which I could really hone a craft. I went to Newham college in East London for one year out of three. Afterwards, I found work experience with a tailor on Brick Lane and then got my apprenticeship at Gieves and Hawkes on Savile Row.
Are you more numbers or more creative when it comes down to cutting?
100% creative! I'm actually terrible at maths, which is ironic because it's a huge huge part of my job. But it's only fractions, so once you can divide something by eight and you can work in inches then you're a tailor. But in all seriousness, I do find that the craft is a nice way to express myself and use my hands which is really important to me. But aside from that, there is a huge part of it that is technical to create the patterns. 
How were you taught?
The way I learnt was from a man who broke a lot of the rules which you usually get taught, like, "Join this to this, to this, to this, and you'll have this pattern." It's what we call, in the trade "Rock of Eye". It's much more about getting a feel and trusting your instinct which is where I lie in my approach to tailoring. If it looks like a pair of trousers then it will sew together like one - it sounds silly, but sometimes you can overthink and over complicate things. 
And, what's your personal approach?
I don't take anything too seriously, I trust in my skills, and I understand my job. We aren't performing brain surgery, we're making suits. Once you understand that then you can have fun with it. I hear people talking about the difference in the button positioning being one eighth of an inch but I don't think it's about that ultimately.  Do you know what I mean? Does it look nice? Does it fit nice? Then it's nice. Does it do you justice as the wearer? Does it make you feel good? Does it make you feel confident? Those things are more important than where you place a button. Outside of my huge appreciation for the craft and wearing snug, quality suits, I  enjoying wearing contemporary menswear and streetwear.
What cloth bunches are your go to for transitionary suits over three or four seasons?
Most clients want a suit which is going to take them through multiple seasons, is durable for day-to-day wear and not get too hot or cold in. There are a few specific bunches which I go to but I would say, more importantly, is the weight of the cloth which matters. All year round weight is around 12 ounces. That's on the lighter side but by the time you add all the interlinings, the lining, the canvas, then it becomes a little heavier. Harrisons premier crew, that's my favourite, it has one  percent cashmere in it which means it has a lustre and softness which perhaps you don't get from some of the other cloths in that weight range. Hollands and Sherry intercity is absolutely solid gear. It's something that you know is going to last a very long time but maintain its integrity and its overall body. I've made so many city suits out of that.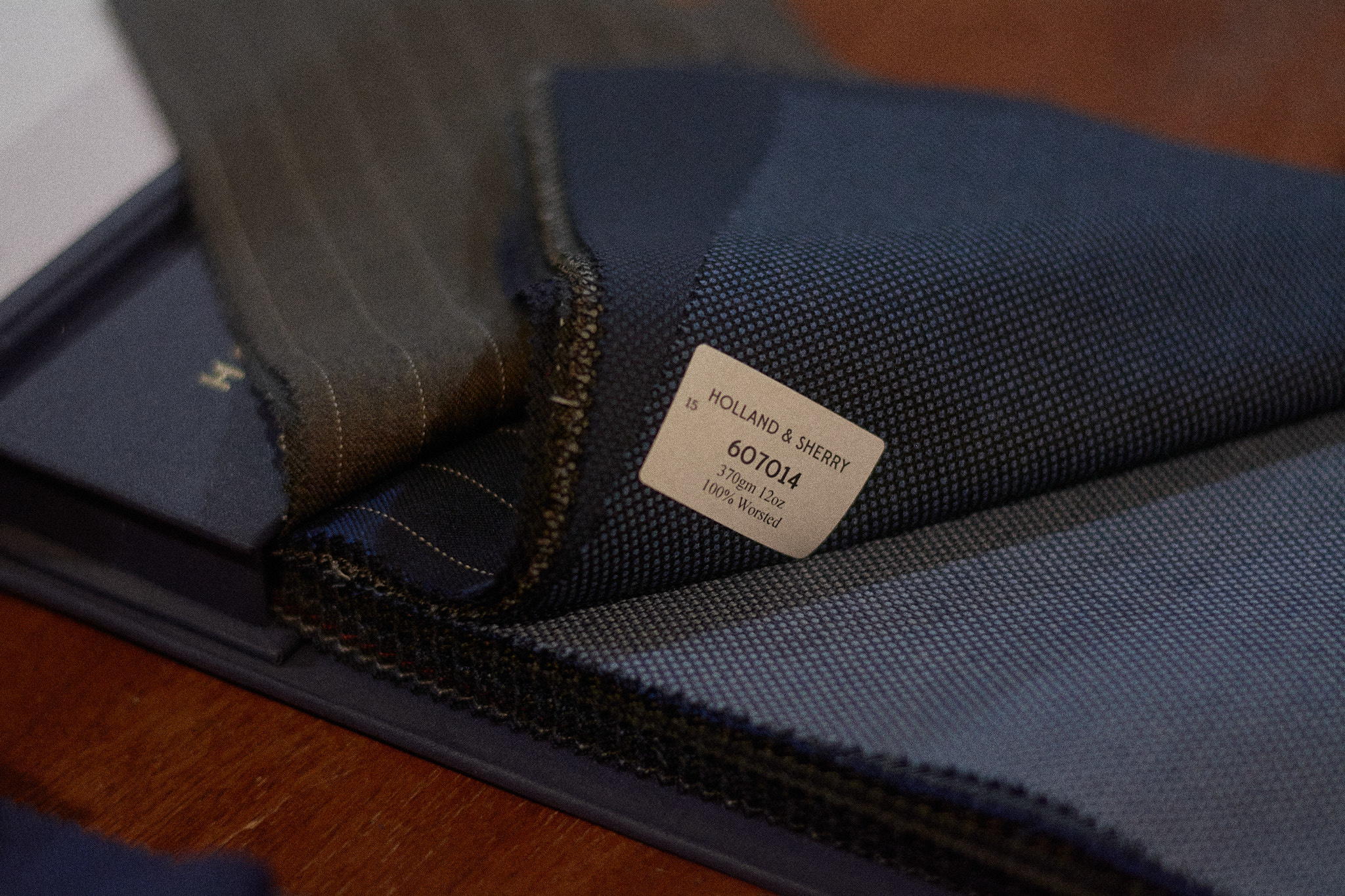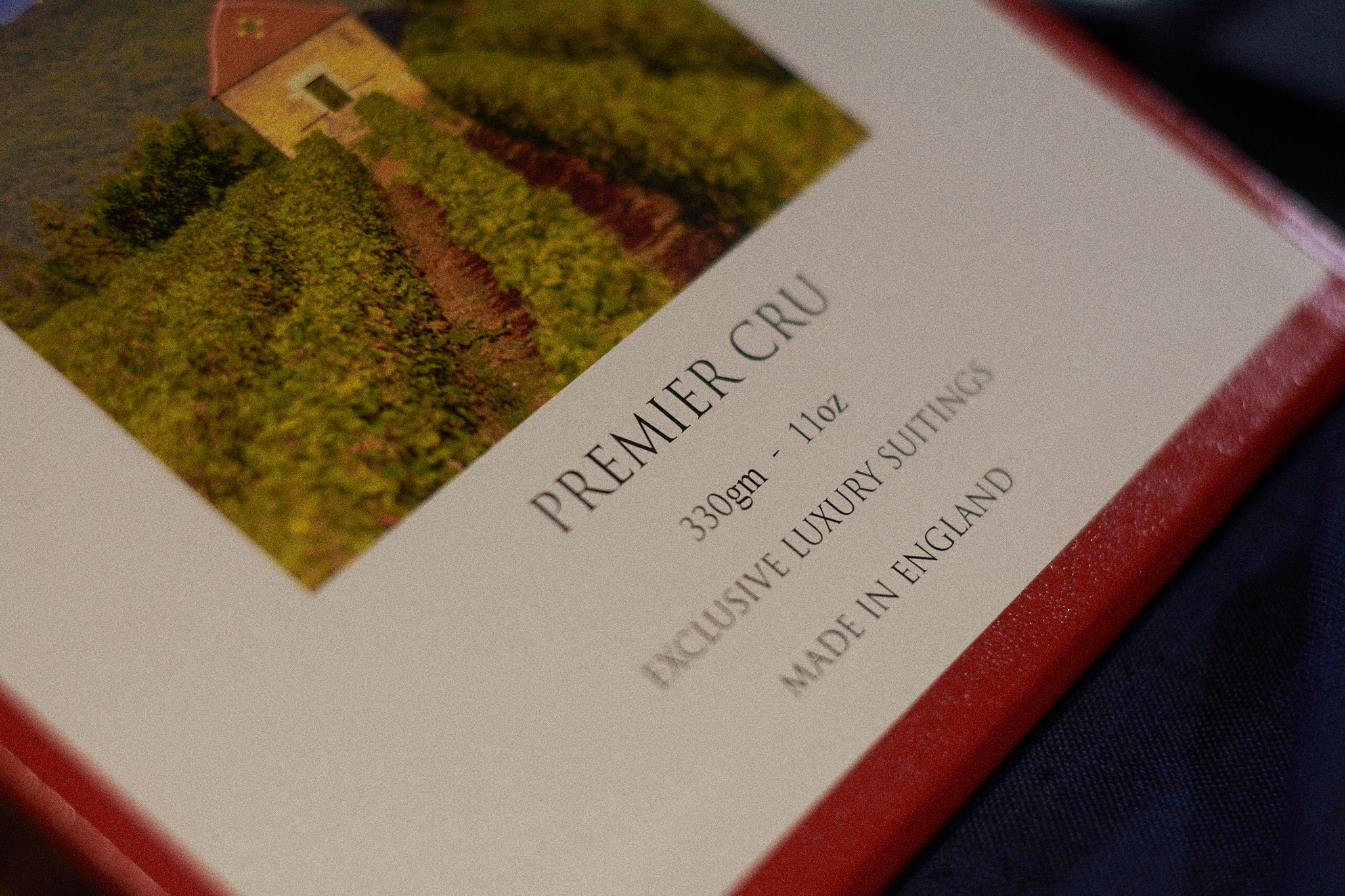 "Everyone should have a navy and a grey suit. "

 
Can you recommend some staple wardrobe pieces?
Everyone should have a navy and a grey suit. Thats super trad and the most bespoke tailor thing that I could say but, it's true. Once you've got those nailed then you can go onto fun stuff. Pinstripe, checks, double breasted. But, plain navy and plain blue to get you started. Also, you need nice outerwear. You need a banging overcoat for the winter. Something sightly longer, a bit more luxurious which will last you a long time. Part of what we do is make suits which last for years and years and years with the correct care. Part of the bespoke process is to educate our clients. Not just about the suit which they're wearing, but also things such as not to dry-clean it so often.
Are there any particular styles or materials you've always wanted to use but haven't been able to, even if its not available from Oliver Brown?
There are a few famous cloths you come across as a tailor but they're just so expensive so it's just not really an option. A Vicuña overcoat, the prince of Wales has one. Vicuña is the rarest type of wool which you can get hold of. More than that, they only shear them every two or three years. It's thousands of pounds a meter. So to make something out of that would be amazing but also truly scary because you can't make mistakes. For myself, I'd like a denim suit or I'd quite fancy a dinner suit with overalls instead of trousers. Something a bit different. 
What adds the largest amount of cost to a suit and how could someone cut down on cost?
The cost is incurred in the labour and the hours spent making it. You'll rarely, if ever, find a bespoke tailor having a sale. Not only do you have to pay the cutter but the coat maker, the trouser maker, the waistcoat maker, the finisher, the presser. You're not just paying for the cloth, you're paying for the linen inside the jacket which makes the pockets strong, the canvas which floats to create the chest, the lining, the natural horn buttons. Everything is the best possible version of what it should be in bespoke. So with that obviously comes an elevated price. We're lucky here in Chelsea. Our overheads aren't as high as it in the West End. We're able to offer the same product for a fraction of the price. It's a really good offering in my opinion. I've learnt to cut suits in Saville row, the coat maker learnt in Saville row, the finisher learnt in Saville Row and so on. It's more or less the same product.
The most interesting piece you've made for a client?
The cool thing about Oliver Brown is that the customers are a little more adventurous and less afraid to be experimental with their clothes. Lots of the garments we make are for shooting or riding so we get to use a lot of tweed. With that, customers want details which are functional so we add a lot of suede trim or cool pockets with interesting functions. Recently, I made some wax cotton thigh waders which is super cool and unusual. We figured out, together, how they would work, how they would attach to his tweed trousers, and actually made a a really cool functional thing out of a material which somebody wouldn't usually use for bespoke tailoring.
How do you see bespoke moving with the rise and want for sustainable clothing solutions, aside from typical vintage?
Part of the unique experience of having a bespoke suit made is because it's made by hand and it been made the same way for two hundred years. Everybody that gets hold of them understands how it has been put together so it's very easy to take apart, fix, alter, adjust and then put back together. So there'll be times when people have brought is suits from their their grandfathers or great grandfathers. Luckily, things haven't changed that much, especially not in the way that they're being made so we're able to take them, alter them and give them another lease of life for a new owner. It's really cool. It's really really anti fast fashion. Every customer who orders a suit, we order exactly enough cloth to make that suit and there's hardly any waste. 
How would you like to see the industry change?
It's a tough time for the industry for a few reasons. I think the rent, particularly in the west end, is getting so high. They're unable to go see their international customers, get fittings and keep the cash flowing. With that being said, I think a lot of young people are interested in tailoring and they want to come learn. As someone that is going to teach an apprentice, you have to make the judgement as to whether they're in it for the long run or not. It's an investment of your time. But if they're coming down because they want to be the next Alexander McQueen, because he did a bit of tailoring on Saville Row, then what they really want to be a fashion designer. What' I'd like to see is the big companies taking care of the apprentices a little better. The wages are still relatively low and there is rarely any structure to learning. 
"That's more exciting to me as a cutter, to do something a little bit different and new. "
And what about the future?
I think in the future, sustainability will call for a larger offering of bespoke. People won't just walk into Topman and buy a pair of jeans for 25 quid, they'll have a pair of jeans made for them that will cost them 100 quid. As a result, they will last them much longer. But they will have designed them themselves and have more ownership over the end product. I'd like to think there will be more emphasis on custom outerwear in the future. People designing their own coats, jackets, whatever and having once offs made. Investing in garments rather than just buying cheap and buying twice.
The emphasis of suits on the workplace is also changing. People don't need to wear a tie in Lloyds anymore, the big city insurance broker. You only have to wear ties to meetings and dress down Fridays are becoming dress down all week and, just wear a suit if you've got a meeting. People working from home means people need suits less. That's part of the more unusual pieces we make. You don't have to have a suit made, come in, we'll make you a really cool overcoat, make you a bomber jacket, make you some jeans or chinos. Wear something different but have it made. That's more exciting to me as a cutter, to do something a little bit different and new.