N.B. We temporarily ask that you please allow at least five working days for alterations to be completed.
Login
Log in if you have an account
Register
By creating an account with our store, you will be able to move through the checkout process faster, store multiple addresses, view and track your orders in your account, and more.
Create an account
'Check Yourself' with Heritage Tweeds
09 Oct 2019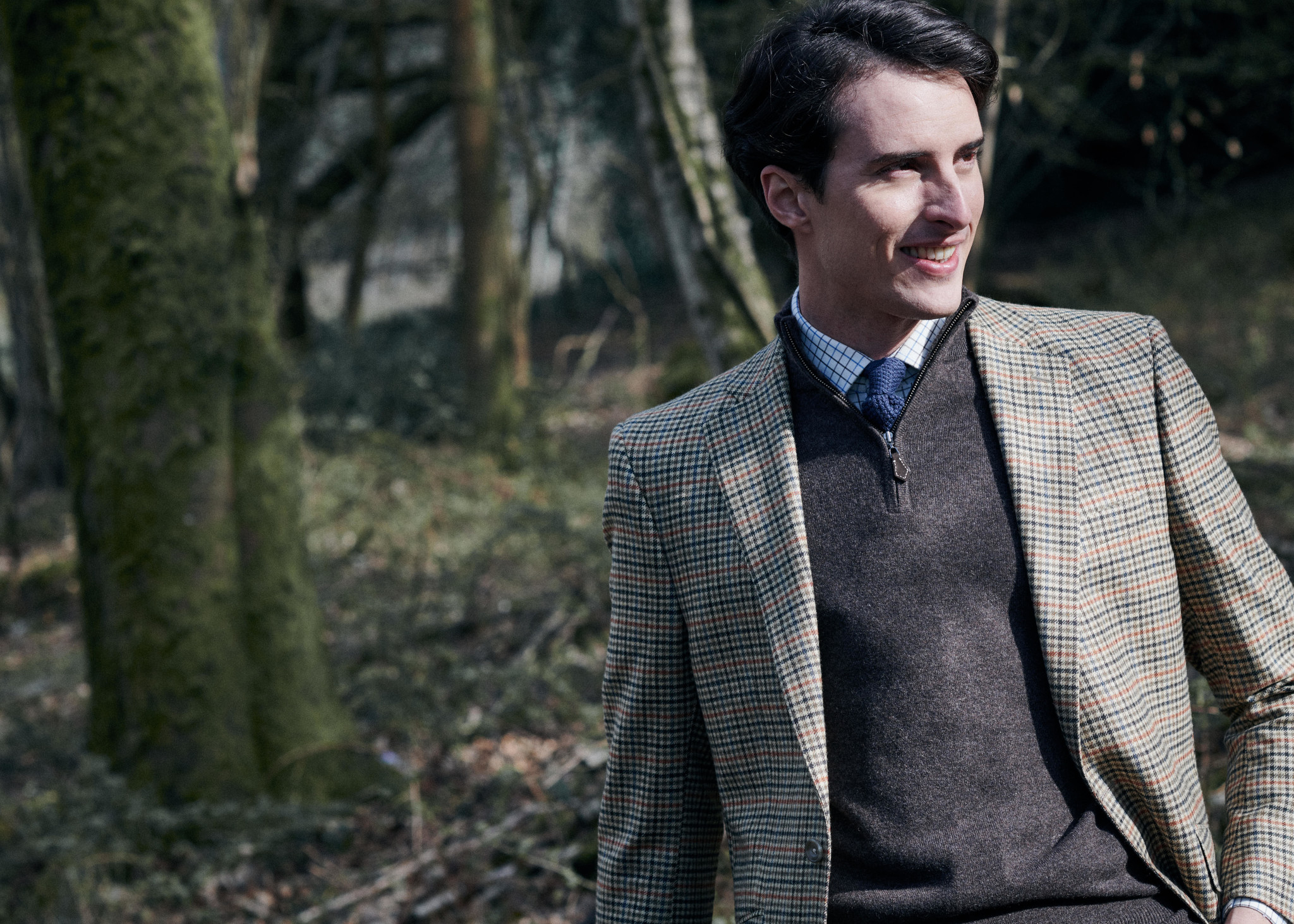 The sartorial world is full of misleading monikers.
While we can be fairly certain that Wellington boots are named after the Iron Duke and Mackintosh Coats after their inventor Charles Macintosh (note that there is no 'K' in his surname), we do not know, for instance, whether monks really were the first people to wear shoes that fasten with straps and buckles instead of laces or if one French king's penchent for tufted fabric really inspired the name Corduroy (or corde du roi).
The 'Gun Club Check' too has an interesting onomastic history. The pattern originated in the west of Scotland as a 'district check' and was known as 'The Coigach', which referred to the remote highland region near Ullapool.
'District checks', also known as estate tweeds, evolved as liveries to identify the people who worked and lived on various Scottish estates, which is a distict history from the creation and development of Tartans, which are representative of families and clans. The Scottish Register of Tartans, a closely-guarded record of listed tartans and checks managed by the National Archives of Scotland, suggests that the Coigach check is likely the oldest of the estate checks, dating to 1847.
Although this may be contested by those who reference the fact that when Prince Albert acquired the Balmoral Estate in 1848, he decided that his stalkers and ghillies should have a new tweed by way of a uniform. Then as now, others followed suit, and soon most of the great country estates of Scotland and the North of England had their own distinctive tweed.
The decision of which colours to use was not always merely aesthetic. The Coigach check's original appearance was not dissimilar to the photo above, our 'Ardoch Tweed', with four colours of crossing lines in black, rust, gold, and green, a design which took inspiration from the colours of the surrounding countryside.  Fabric woven with mixes of yarns that echo the contrasting brilliance of plants, rocks, and sands works in much the same way as the constituent parts of an impressionist painting: by breaking up outlines, the wearer merges into the background.
Some time after it's creation, Coigach was adopted by the American Gun Club for their overcoats and jackets and became known simply as the 'Gun Club' check, and it may well be its adoption by our American cousins which brought this remarkable tweed out of the purview of the landed-classes into 'mainstream' fashion (something for which, in my opinion, we can be very thankful).
While there may be no other article of clothing as versatile as a navy blazer, a checked jacket is perfect for those who want to display a bit more daring in their personal style.
Large checks risk the danger of being 'too loud' and micro-checks can be too subtle, whereas the gun club of checks offers that crucial balance. Moreover, the typically brown-coloured tones lend a decidedly casual nature to the cloth. The pattern registers as a near-solid from a distance, but on closer view the eyes are delighted with with a veritable kaleidoscope of colours.
Because of the neutrality of the tones, it's easy to pair a gun club jacket with equally neutral colours that pick up on those colours in the jacket (for instance, the denim knitted tie in the photo above). The texture of the tweed works especially well with equally heavy textures--think flannels and moleskins for trousers, brushed cottons for a shirt, and suede for accompanying shoes.
But overall, let the gun club check speak for itself. It will be the 'hero' piece of any outfit, which means that you can leave the natty tie and pocket square behind for more subtle replacements.