Login
Log in if you have an account
Register
By creating an account with our store, you will be able to move through the checkout process faster, store multiple addresses, view and track your orders in your account, and more.
Create an account
Style Files: An Interview with Jonathan Loe
17 Sep 2019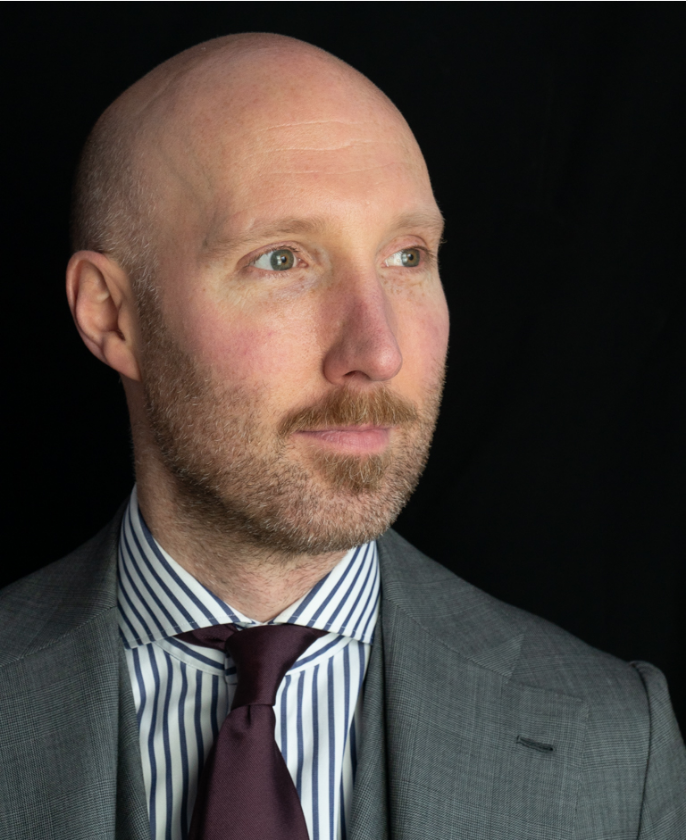 For this installation of 'Style Files' at Oliver Brown, we sat down with Bespoke Co-ordinator Jonathan Loe to hear about the influence behind his personal style and what led him to a career in the fashion industry.
Jonathan has been in the rag trade for nearly twenty years in multiple roles and has worked for Mr Stuart, Aquascutum, Paul Smith, and Ralph Lauren. By far his favourite role within the industry is fitting and designing individual bespoke garments, and we are pleased that he is continuing his work in this area at Oliver Brown.
What is your first fashion memory?
When I was eight years old, I was taken on a family trip to Washington D. C., and I remember very distinctly that I was bought a new set of clothes for this occasion: a double-breasted navy blazer, bowtie, khaki trousers, and a pair of Florshiem penny loafers. The classic Americna preppy uniform. This outfit suited me perfectly, and I didn't want to take it off.
My father has always been into his tailoring as well, and some years after the Washington D.C. trip, he gave me his father's Harris Tweed jacket. A properly heavyweight tweed wasn't exactly well-suited to the climate of the South-West in America, but nonetheless, I loved wearing it.
The jacket fitted perfectly, and I recall that first feeling of how good clothing can have an effect on how you carry yourself and interact with others. It's difficult to describe exactly, but being well-dressed(in a way that instils confidence and reinforces a unique style) provides a sensation like no other.
What's the most stylish item you own?
I think my most 'stylish' item is a French bespoke poncho I had made a few years ago. It's cut from a stunning black cashmere cloth and is lined in black rabbit fur. It has a funnel neck and minimal detailing, which is doesn't need because the garment really speaks for itself. It is the perfect top layer for formal evening occasions in the winter and certainly turns a few heads!
And your most valuable item?
I'm very lucky to have been given my father's Omega Seamaster Deville from the 1960s. It's an automatic watch but has very thin lines and a striking oyster-coloured face. I don't think that they produced many with the detailing it has, and I love that it goes with practically any outfit.
What is the one look you wish you could pull off?
Wearing a white linen suit in the summertime. One of my favourite films is Warner Herzog's Fitzcarraldo. The main character, Brian Fitzgerald, is obsessed with building an opera house in the small Peruvian village where he lives. Throughout the film, he's wearing a ragged white linen suit. It's unstructured with three buttons and no vents in the jacket, and in my opinion looks all the better for the time its spent with Fitzgerald trudging through the Amazon.
Who would you say is the most stylish man to have ever lived?
Anthony Eden is the first name that springs to mind. His style would perhaps look a bit outdated today: Homberg hats, double-breasted waistcoats with a suit, and stiff collars being quite a niche fashion statement these days. However, no matter the formality of what he was wearing, it always fitted perfectly and looked effortless. Many of the details of suiting from his time, such as nice wide peak lapels and high-waisted trousers have come back into fashion recently.
If you could invite three designers (past or present) to a dinner party, who would you invite and what would you serve?
I'd invite Karl Lagerfield, Ralph Lauren, and Frederic Malle (I know that Malle is a perfumier, but their influence, but their expertise goes hand-in hand with fashion). I would serve a collection of my favourite dishes: oysters to start, a whole tubot prepared table-side, and a simple affogato to finish.
What is the one item you cannot live without?
Pocket squares in general. A jacket isn't really finished without one in my opinion.
What do you like best about your job?
I thorougly enjoy finding out how customers wish to use the garments we make for them. There is always a story to go with the clothing we make, and with endless possibilities in the bespoke world, even if it requires a lottle problem solving, we are more likely than not able to craft a unique piece to the customer's specifications.
How do you feel about the industry today?
There's a common misconception that bespoke tailoring is a dying business. I've seen quite the reverse over the past twenty years. With consumers increasingly interested in where products come from, bespoke tailoring is a way to come face-to face with the craftsman producing your clothing. People also seem to be understanding that it's more sustainable long-term as well. After all, 'buy cheap, buy twice'.
If you weren't in the clothing industry, what would you be doing?
If I weren't in the clothing industry, I would still be involved in the theatre, ideally directing theatre productions. I studied acting and used to 'tread the boards'.