THE HEIGHT OF ELEGANCE
Antique top hats are considered the height of elegance as a result of the impressive shine, shape, and lightness produced by polishing the silk plush. Unfortunately, this cloth is no longer manufactured, and therefore, those hats in pristine condition or a larger size fetch higher prices.
AN EXTRAORDINARY COLLECTION
At Oliver Brown, we have the largest offering of antique silk top hats in the world, with over 1,200 in stock. We are also the only retailer who sells top hats in the Royal Enclosure at Ascot. Our collection is carefully curated to provide the finest hats still available today.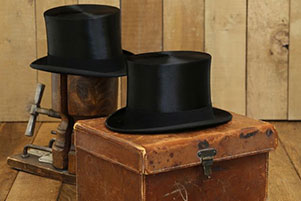 CARE & REFURBISHMENT
We offer a complimentary velvet polishing pad and hat box with every purchase of an antique silk hat. There are also many options for repairs, should your hat need a bit of attention. Follow these link to learn more about Top Hat Care and Refurbishment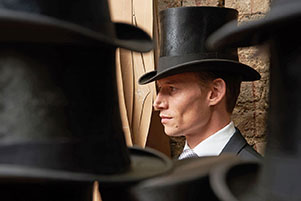 PRICES BEGIN AT:
6 7/8" (56cm) from £ 500
(57cm) from £ 650 8"
(58 cm) from £ 750
4" (59cm) from £ 950
8" (60cm) from £ 1500
7 1/2" (61cm) from £ 1950
7 5/8" (62cm) from £ 2500
7 7/8" (63cm) from £ 3000
8" (64cm) P. O. A.


Owing to their rarity and complex sizing, these hats are predominantly only available to purchase in our shop. If you should wish to book an appointment for a fitting, or would like our hat expert to visit you for a specialist fitting, please phone us on 0207 259 9494. Additionally, you may phone Kristian Robson directly on 07768 395 285 to enquire about ordering a silk hat via telephone.