BLACK TIE
In 1865, the Prince of Wales, the future King Edward VII, placed an order with his tailors on Savile Row for a short evening jacket with matching trousers in a midnight blue cloth. Thus, the dinner suit was born.
This less formal version of evening dress became increasingly popular through the late nineteenth-century as an alternative to wearing a tailcoat.
During the early twentieth-century, the standard accompaniments to the dinner suit became a white shirt, black bowtie, and black waistcoat, forming what we now know as 'black tie' attire.
This mode of dress has varied with the fashions of the last century but largely remains unchanged, and we are proud to offer a wide-ranging selection of styles both traditional and modern.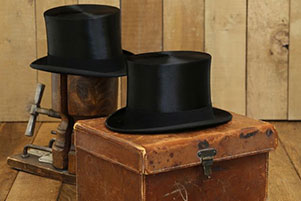 WHITE TIE
Through the end of the eighteenth-century and beginning of the nineteenth-century, the fashion for men began evolving away from the highly-decorated court dress of the baroque era. Trousers replaced breeches, well-fitted black or midnight blue coats replaced generously-cut colourful, brocaded coats.
By the 1840s, a minimalist look of matching black barathea trousers and tailcoat with a white waistcoat, bowtie, and shirt was the de rigueur evening wear choice for discerning gentleman.
Today, white tie, or full evening dress, remains the most formal mode of dress for evening wear. It is most often now reserved for official state functions, ceremonial occasions, and some formal balls. As such, the guidelines for white tie are much more restrictive than other forms of dress.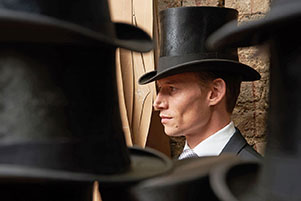 WHAT TO WEAR
• barathea dinner jacket in black or midnight blue with black silk facings.
• Lapel choices come in notch, peak, or shawl in single or double-breasted. Any of these jackets are suitable for black tie.
• Black or midnight blue barathea trousers with a single braided or satin stripe down the outside leg.
• A white Marcella shirt with a turn-down collar.
• Black onyx shirt studs.
• A black barathea or satin bow tie.
• Patent leather dress shoes.
WHAT TO WEAR
• A black barathea tailcoat.
• Black barathea trousers with fishtail back, braces buttons, and two braided stripes down the outside leg.
• A white marcella shirt with a detachable collar and single cuffs.
• Mother of pearl shirt studs.
• A white marcella bow tie.
• A marcella waistcoat (n.b. the waistcoat should never be visible below the front of the tailcoat, necessitating a high waistline and braces for the trousers).
• Patent leather shoes or evening pumps.
• Although less common today, a top hat, white evening gloves, and a silver-tipped walking stick are all acceptable accessories.
SMOKING JACKETS
As goods from the far East began to flow into Europe via the great seventeenth-century trade route known as the Silk Road, spices, tobacco, coffee, and silk became highly-coveted possessions of the wealthy and powerful. Long, silk damasque gowns were worn as an outward sign of one's status, or as recorded by Samuel Pepy's in his diary, they were hired to give the illusion of status.
By the nineteenth-century, these robes evolved to a short-fitting jacket, worn over evening clothes as a form of protection from falling ash from cigars, earning the name 'smoking jackets'.
Reminiscent of the early-modern interest in all things from the Orient, our smoking jackets offer gentlemen an opportunity for a splash of colour and decadence in evening wear.
We offer the largest selection of smoking jackets of any retailer in the world in a wide range of styles from an understated velvet jacket to double-breasted jackets with frogging (a form of braided decoration) and quilted lapels.


Owing to their rarity and complex sizing, these hats are predominantly only available to purchase in our shop. If you should wish to book an appointment for a fitting, or would like our hat expert to visit you for a specialist fitting, please phone us on 0207 259 9494. Additionally, you may phone Kristian Robson directly on 07768 395 285 to enquire about ordering a silk hat via telephone.